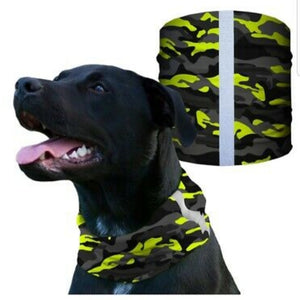 "SURGE MILITARY CAMO" Reflective Dog Shield
LIFETIME WARRANTY! ZERO RISK!
SA Co. Dog Shield™ tubular bandanas offer style and protection without weighing your furry friend down. Dog Shield™ tubular bandanas can be worn MULTIPLE WAYS—soft collar, sweater, hood, etc! Lightweight and comfortable, our Dog Shields™ wick away moisture, dry quickly and have reflective strips so you and others can see your dog. You'll be amazed by how effectively it reduces your dog's skin temperature, as well as acts as a barrier against ticks & fleas—no chemicals.
PRODUCT SPECIFICATIONS:
Soft, Breathable 100% Polyester Microfiber
100% Seamless
Reflective Strips on Front and Back
Multi-Use
Stain Resistant
Odor Control
Physical Barrier for Ticks & Fleas—No Chemicals
Quick-Drying
2-Way Lateral Stretch
Product Dimensions: (approx.) 10.5 x 10.25 inches
Weight: 0.5 ounces
Fits Dogs 15-120lbs
Machine Washable
Air Dry
Do Not Iron
NO RISK | Lifetime Warranty on all Dog Shields™
---